Fludrocortisone Replacement and Adrenal Insufficiency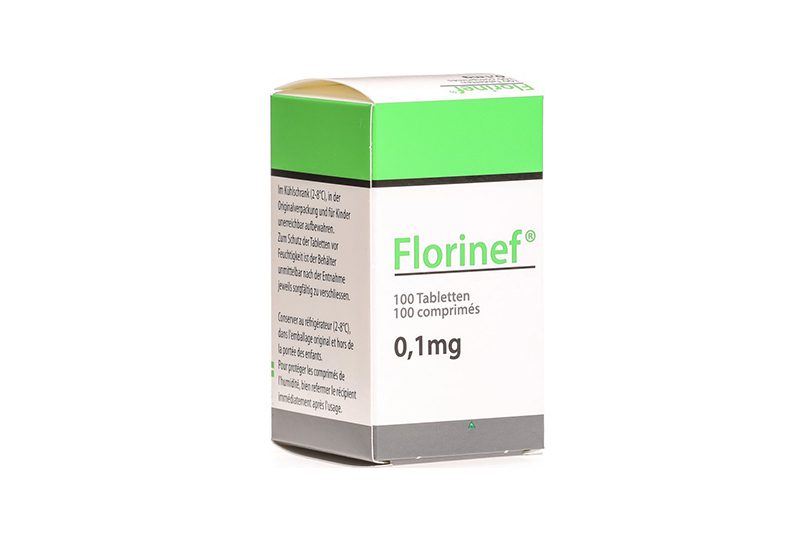 The adrenals make 2 important hormones, cortisol (a glucocorticoid) and aldosterone (a mineralocorticoid). Patients with adrenal insufficiency from an adrenal cause such as an adrenalectomy or Addison disease require replacement of both hormones, Although the natural mineralocorticoid is aldosterone, we give fludrocortisone or Florinef as a replacement. The glucocorticoid and mineralocorticoid axis are 2 different axes and in patients with Addison disease or who had an adrenalectomy, both axes need to be replaced. Patients with pituitary cause of low cortisol usually do not mineralocorticoid replacement, although patients with low blood pressure and symptoms such as dizziness on standing and salt craving may benefit from fludrocortisone replacement.
The symptoms of glucocorticoid insufficiency include nauseousness, vomiting, diarrhea, abdominal pain, joint pain, muscle pain, weight loss, and low energy and fatigue. Patients with mineralocorticoid insufficiency have low blood pressure, dizziness on standing, palpitations, salt craving, lightheadedness, low blood pressure, and a high pulse, and they often feel like they have brain fog because they do not get enough blood to the brain. They may do worse after exercising to get more blood going to the muscles and less towards their brain. It is important to distinguish when the symptoms are either not enough cortisol or not enough aldosterone.
Dr. Friedman has been treating patients with adrenal insufficiency for about 30 years, and he notices most patients treated by outside Endocrinologists are over-replaced on glucocorticoids or cortisol and under-replaced on mineralocorticoids or Florinef. The patient on too little fludrocortisone still does feel well, and the doctor will often give him more glucocorticoid and they might feel a little bit better, but then they start getting cushingoid symptoms including weight gain and central obesity and increased chance of infection and increased chance of getting diabetes. This is because they should have been getting more fludrocortisone instead of more hydrocortisone.
There is a very accurate test to determine whether the patient is getting enough fludrocortisone if they have primary adrenal insufficiency, and that test is the renin test. Dr. Friedman uses LabCorp which measures plasma renin activity while some labs use a direct renin assay. The laboratory director at LabCorp feels the plasma renin activity is more accurate than the direct renin level. The plasma renin activity does need to be collected in a chilled blood sample and kept cold and spun immediately. Otherwise, it will be falsely low. A high plasma renin activity indicates not enough mineralocorticoids and a low plasma renin activity indicates too much, and therefore the dose of fludrocortisone could be adjusted to normalize the plasma renin activity. This is much more accurate than looking at electrolytes, such as potassium, which are a later change and usually are not that affected by too much or too little Florinef. Substantial mineralocorticoid excess can lead to low potassium, but usually this does not happen too frequently, and therefore Dr. Friedman recommends the plasma renin activity and not electrolytes to be measured frequently until the Florinef dose is stabilized and the patient's plasma renin activity is normal. Dr. Friedman has looked at measuring standing or lying down plasma renin activity and feels that the sitting value is accurate and does aim for a value in the middle of the range. However, if a patient is still having symptoms of mineralocorticoid insufficiency and the value is in the middle of the range, he might increaase the dose a little bit. When patients are cutting down on their glucocorticoids, they need more mineralocorticoid requirement, and Dr. Friedman will often add extra Florinef as he is trying to taper a patient down who is on too much glucocorticoids.
It is known that the glucocorticoid, hydrocortisone, has to be given in divided doses because it has a short half-life. Dr. Friedman has also experienced that fludrocortisone has a pretty short half-life and really should be given twice a day. Most doctors just give it once a day, although Dr. Friedman feels thatpatients do better if the dose is split up to twice a day. Patients will often need more fludrocortisone in the summer when it is hot and they are sweating and less in the winter.
If you have adrenal insufficiency and want an expert to treat you, please contact Dr. Friedman or lookon his website at goodhormonehealth.com.