AMH and It's Role In Fertility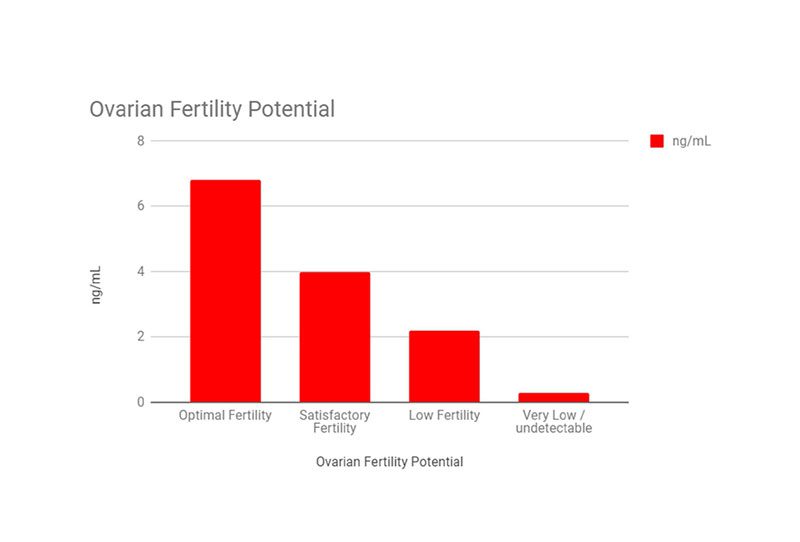 Anti-mullerian hormone (AMH)
AMH is a protein produced by cells in the ovary. AMH is used to evaluate fertility and ovarian egg reserve in women. AMH measurements can be taken at any time during the menstrual cycle making it a better ovarian egg marker than FSH, which is also used to evaluate fertility in women, but needs to be measured during the early part of the cycle. Lower AMH is indicative of diminished ovarian reserve and means the ovary is not producing good quality eggs. Although, it varies with each woman, the likelihood of getting pregnant is higher with higher AMH levels. AMH levels naturally decrease in women upon reaching forty and decrease further with aging. Low AMH levels may be due to perimenopause or in a woman younger than a typical age of perimenopause (20s and 30s), may be due to an autoimmune attack on the ovaries.
Additionally, women with Polycystic Ovary Syndrome (PCOS) experience higher levels. PCOS is an endocrine problem that causes women to secrete AMH at two to three times the normal level. Women with PCOS have small cysts in their ovaries which are not harmful, but they cause a hormone imbalance. Thus, for women with PCOS, the above graph is not applicable and those women with PCOS and a high AMH (> 10 ng/dL) have low rates of fertility.
Women with low AMH are likely to respond less well to in vitro fertilization (IVF), although it is still possible to become pregnant. Dr. Friedman looks at AMH levels to advise patients on their chance of fertility and to encourage them to seek a reproductive endocrinologist if they seek fertility but have a low AMH. He also uses it to guide women who want to postpone childbearing but still want to get pregnant in the future. A lower AMH would prompt Dr. Friedman to encourage that patient to start the process of having a family sooner rather than later.
For more information about Dr. Friedman's Endocrinology clinic, please visit his website at www.goodhormonehealth.com. To schedule an appointment, please email us at mail@goodhormonehealth.com.