Florence Student's Mysterious Affliction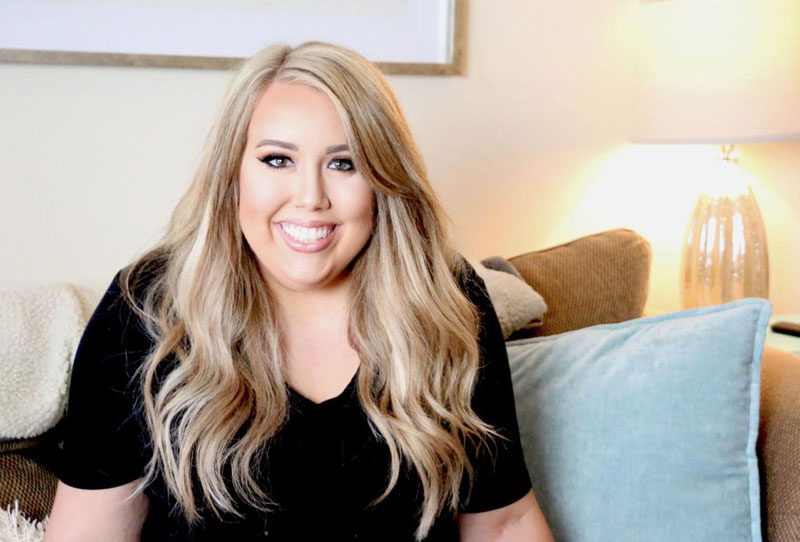 FLORENCE, S.C. – After struggling with a mysterious illness for nearly three years, Florence resident Taylor Davis is using her diagnosis of Cushing's disease to raise awareness.
Davis was a healthy young adult when she started as a student at the University of South Carolina in the fall of 2015, but soon into her college career, she began experiencing several symptoms, such as weight gain, insomnia and panic attacks. Davis spent the next three years going from doctor to doctor trying to get a diagnosis for her symptoms.
Since her diagnosis, she has been trying to raise awareness through social media about her experience with Cushing's disease. Cushing's disease is a hormonal disorder caused by high amounts of cortisol, or the stress hormone, in the body, according to the Mayo Clinic website.
During her freshman year, Davis began struggling with insomnia and started gaining weight. At the time, Davis brushed them off. Davis's symptoms progressed to having panic attacks during her sophomore year. "I'd be driving down the road, and my whole body would start freaking out," Davis said. "I'd get heart palpitations, my heart rate would go crazy. I felt like I couldn't breathe. It was intense panic attacks." In addition to the onset of panic attacks, Davis' insomnia got worse, and she continued gaining weight. Davis also began losing clumps of hair, but she searched the internet and thought it was just normal. The summer after her sophomore year, Davis said. she went to the doctor for answers with little luck. "My doctor just kind of like brushed it off," Davis said. "She told me it was probably just stress from school and stuff like that, and that I needed to diet and exercise more, but I was like, 'A girl can only diet and exercise so much.'"
As Davis started her junior year, she said. her symptoms progressed to losing larger amounts of hair, which left bald spots that she tried to cover with extensions. At the time, Davis attributed the hair loss to bleaching her hair.
Then Davis began craving copious amounts of salt and large amounts of water. "I started drinking water bottles by the case each day" and having to go to the bathroom frequently, Davis said. "It would just run straight through me."
By the time the spring semester came, Davis' panic attacks began causing blurred vision, nausea and dizziness. She said they felt like heart attacks. Davis' mother, Amy Lewis, got her admitted to McLeod Regional Medical Center for testing over spring break. Her kidneys were tested. An MRI and other tests were conducted, but Davis received no answers except that she was fine.
Davis's panic attacks continued to get worse, so she and her mother began researching all of her symptoms for answers. Their research pointed them toward Cushing's disease.
After another episode that caused Davis to pass out, her family took her to the emergency room. This time, the doctor had an answer: a brain tumor on her pituitary gland.
"It was so crazy the feeling I had at that moment," Davis said. "I was so relieved, because I was so terrified for months at that point, and no one was going to help me because I had all of these problems."
After the emergency room visit, Davis had to wait weeks for an endocrinologist appointment in Florence, but the doctor said she didn't know enough to diagnose her.
She and her mom found an endocrinologist and neurosurgeon in Chapel Hill, North Carolina. The endocrinologist told her Cushing's disease is too rare for her to have and said Davis needed to lose weight. The neurosurgeon told Davis an endocrinologist would have to prove that the tumor was causing Cushing's disease before he would take it out.
By this point, Davis medically withdrew from USC because she could barely walk to class. Determined to get answers, Davis joined several support groups on Facebook for Cushing's disease. The Facebook group led her to make an appointment with Dr. Theodore Friedman in Los Angeles, who was able to diagnose her with Cushing's disease in October of 2018. In November of 2018, Davis had surgery to remove the tumor from her pituitary gland.
Since the surgery, the tumor removal has caused adrenal insufficiency, so Davis has to take a steroid replacement medicine. She has been weaning herself off the medicine so that her pituitary gland will begin making cortisol again.
 Davis has been using social media, especially Instagram, to post updates on her journey with Cushing's disease. While she was at USC, she was a public relations major, and she has always loved telling stories. "It just came natural to me as it (Cushing's disease) started happening to start sharing my story," Davis said.
Davis said she receives a few messages with questions about her experience every day from people who see her posts. " That (Cushing's disease) really gets to me sometimes, but talking to those people, helping other people and sharing my story, that brings me back up," Davis said. "That's what keeps me happy and keeps me from getting to that dark depression." Davis said she is also in the process of starting a YouTube channel to document her experience with Cushing's disease, because she wants to help others as they go through the process of a diagnosis.
If you would like more information, please do not hesitate to make an appointment or visit Dr. Friedman's website at goodhormonehealth.com.