INFORMATION FOR CUSHING'S, GROWTH HORMONE DEFICENT AND HYPOPITUITARY PATIENTS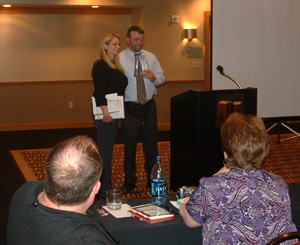 Dr Friedman accepts an award from patients, at the magic Foundation's conference

NEWS -

-Working out obesity issues on "Extreme Makeover: Weight loss Edition"
The MAGIC Foundation hosted a half day conference on February 22, 2009 on Cushing's syndrome as part of their conference for adults with pituitary disorders. Dr. Friedman and Dr. McCutcheon were the key note speakers. A copy of the program can be seen here .



Dr Friedman's MAGIC Foundation presentations
-Had your surgery, now what?
-Determining the type of cushing's
-Diagnosing Cushing's disease.
-When Cushing's persists.

Dr. Friedman hosted a chat about Cushing's disease on Feb.13 at 9:00pm eastern on http://www.blogtalkradio.com/cushingshelp

Dr. Friedman was a guest on the Cushing's Help BlogTalkRadio show on January 29, 2009 at 5:30 PST(8:30 EST), hosted by Mary O'Conner and Robin Smith. To listen to the show, go to BlogTalkRadio. Show number two can be heard here




CUSHING'S PATIENTS -
Sign up for a Cushing's symptom tracker at www.cushingsconnection.com/.

What is Pseudo-Cushing's ?-From a chapter in Adrenal Disorders, Margioris & Chrousos eds.
Cushing's Disease is Not Necessarily a Progressive and Fatal Disease,Patel, Shahinian and Friedman
Testing Information :
Click for Salivary Cortisol Testing
Click for Urinary Free Cortisol Testing
Use of UFC and 17OHS in Cushing's syndrome for glucocorticoid monitoring

A Patient's Experience:

Using Blood Sugar Levels to Determine When to Test Cortisol Level Read Article
---


GROWTH HORMONE AND HYPOPITUITARY PATIENTS -

Journal Articles about Growth Hormone Deficiency and Hypopituitarism-
Dr Friedman's letter about adrenal crisis
Dr. Friedman recommends Electron Beam CAT Scan (EBCT) for many of his patients at risk for atherosclerosis-.New

Chagas' Disease and a Suprasellar mass -Choi,Cornford,Wang,Sun,Friedman
Cerebral Aneurysms Impinging on the Pituitary
-Friedman and Shahinian
Adults need growth hormone too! -An article about adult growth hormone deficiency.
Vitamin D deficiency and thyroid disease